Sport
49ers' Deebo Samuel and Kendrick Bourne react to Saints signing Emmanuel Sanders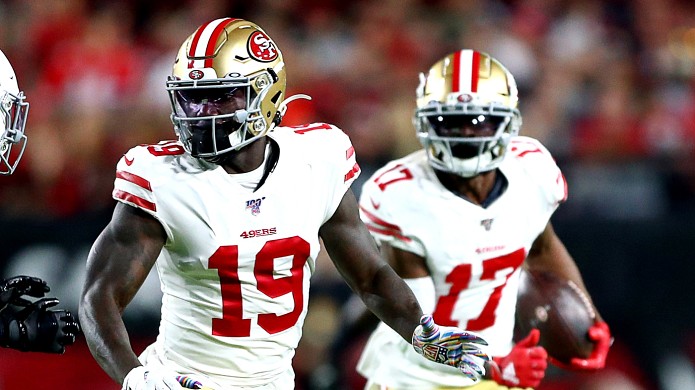 Mark J. Rebilas-USA TODAY Sports
Emmanuel Sanders had a significant impact in the San Francisco 49ers' receivers room. The veteran presence had a profound influence on the younger wideouts this past season, like rookie Deebo Samuel and third-year player Kendrick Bourne.
"Ever since he's been here, you can see kind of things changed a little bit," Samuel said of Sanders in January. "We kind of got like a true vet in the room. He's been in the league so long, played in Super Bowls. Kind of like the knowledge that he passed down to us, we kind of don't have a choice but to listen to him."
Both Samuel and Bourne had hoped Sanders would return. It wasn't meant to be, however. The 10-year veteran played 13 games with the 49ers, including three postseason contests. His next in-game snaps will take place with the New Orleans Saints.
ESPN reported on Friday night that Sanders agreed to a two-year deal worth up to $19 million ($16 million, plus incentives) to become one of quarterback Drew Brees' targets.
Samuel and Sanders both reacted on Twitter to the news that Sanders was headed out of the Bay Area and to the NFC South.
The players will see each other again this year. The Saints are slated to host the 49ers in a regular-season game once again. The last time the two teams met resulted in a thrilling 48-46 win by San Francisco. Sanders had seven catches for 157 yards with a touchdown in the matchup and even completed a 35-yard touchdown pass to running back Raheem Mostert.